The final details for Anna And The King are here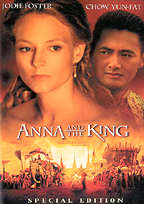 After it had been delayed form its originally scheduled release in June, it was pretty quiet around the epic retelling of Anna And The King. This masterfully told story starring Jodie Foster and Chow Yun-Fat will now be released as a 2-disc special edition on October 31, and we have finally received confirmed details about the Special Edition's contents.
The film tells the true story of a woman who challenged the heart of a king and inspired the destiny of a nation. English schoolteacher Anna Leonowens has traveled to Siam to educate the fifty-eight children of King Monkut. If she has preconceived notions about the East, the King has similar notions about the West. But amid the danger of growing political unrest, their respect for each other slowly turns into something more.
The DVD will contain an anamorphic widescreen version of the 147-minute long movie with a 5.1 channel Dolby Digital audio track in English and French. Additionally, the disc will feature a running length audio commentary track by director Andy Tennant. But also an assortment of six deleted scenes, a 14-minute "HBO First Look" featurette and 4 additional featurettes, covering the production design, the costumes, the elephants and the production itself, will be part of this release. You will also find Joy Enriquez "How Can I Not Love You" Music Video on this DVD, as well as the movie's trailer.
The 2-disc Special Edition of "Anna And The King" will carry a 34.95 price tag when it is released on October 31.