Here are the details of the From Dusk Till Dawn Collectors Edition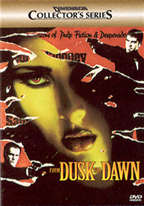 We have just received a detailed list of features for Buena Vista Home Entertainment's upcoming 2-disc Collector's Series edition of FromDusk Till Dawn, and boy, is this disk loaded. Scheduled for release on September 26, the DVD will feature an anamorphic widescreen version of the movie and will also feature a running length commentary track by director Robert Rodriguez and actor Quentin Tarantino.
Richard Gecko and his escaped convict brother, Seth, are heading for Mexico with a briefcase full of cash, three hostages and the FBI hot on their trail. But when they reach their destination, they find themselves in a seedy nightclub with something truly sinister lurking inside. Starring George Clooney, Harvey Keitel, Quentin Tarantino, and Juliette Lewis this is an intense, supernatural thriller that will keep you on the edge with it s captivating visuals.
The Collector's Edition will also contain a series of Deleted Scenes, Outtakes and Alternate Takes. A featurette called "Hollywood Goes To Hell" will also be found on the release, as well as an "On The Set" featurette. Tito & Tarantula's "After Dark" Music Video and the ZZ Top music video "She's Just Killing Me" are also part of the package, as well as a Still Gallery as well as Trailer, TV Spots, and Cast & Crew Biographies. As an absolute gem of the disc, you will also find the 1997 documentary "Full Tilt Boogie" on this DVD. This 97-minute documentary was shot on location during the production of "From Dusk Till Dawn."