Here are the details about Lucio Fulci's upcoming The Beyond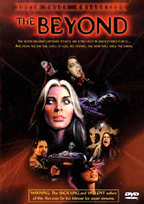 Immediately after securing the rights to Lucio Fulci's The Beyond, Anchor Bay went about to create a new transfer of the movie for release on DVD and started collecting materials that could be added as bonus materials to this release. For weeks, the details about the exact contents of the release have been in a constant flux as new material was added and supplements that were not available in the best possible quality were shuffled and removed.
"The Beyond" is the story of a run-down New Orleans hotel, which houses a gate to the underworld in its dilapidated basements. When new residents of the hotel move in… the evil is awakened. Demonic forces of all shapes and sizes are rising up and violently attacking the living one by one. Can the text of an ancient book save the tenants from a horrible death? Will mankind prevail over the demonic forces, or will it perish in a bleak wasteland conquered by legions of the undead?
True to their commitment to European horror films, Anchor Bay will release "The Beyond" in its original aspect ratio for the first time in the US and in an uncut version running 89 minutes. This version is 8 minutes longer than the original theatrical cut, and adds 2 minutes of footage to the version that was re-released in theaters three years ago through Rollling Thunder. The film will be presented in an anamorphic widescreen transfer, the DVD features 5.1 re-mixed Dolby Digital track in English, as well as the film's original Italian language track in mono. A third audio trac kwill be an audio commentary by the film's stars David Warbeck and Catriona MacColl.
The disc will also contain a rare on-the-set interview with the late director Lucio Fulci and the music video "Necrophagia/And You Will Live In Terror." The lost German Color Pre-credit Sequence and Main Titles will also be found on this releases, as well a photo gallery and large selection of trailers, including international trailers, the German trailer and the US re-release trailer.
"The Beyond" is currently scheduled for release on September 19 and carry a suggested retail price of $29.98.