We have the covers for Jurassic Park, The Lost World and the box set for you!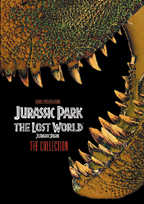 After the announcement of the DVD release of the Steven Spielberg mega-blockbusters Jurassic PArk and The Lost World, we are now able to give you a first look at the cover artwork for both DVDs, but also at the Jurassic Park/Lost World Collection box set that will contain both films. Please click here or on the image to the left for a look at all three covers that we have been able to obtain for your viewing pleasure.
If you have missed this exciting turn of events in the DVD world, here's a quick rundown. Both titles will be released on October 10 as Collector's Editions with plenty of supplemental materials and alternatively with Dolby Digital or DTS audio tracks. The films will be presented in their orignal widescreen aspect ratios in anamorphic transfers. Including "Making Of" Documentaries, rare behind-the-scenes footage, animatics by Oscar-winning special effects creator Phil Tippett, production photographs, a dinosaur encyclopedia, storyboards, production notes, cast & filmmakers bios and theatrical trailers these releases will not doubt be highlights in every DVD Collection.
We have prepared the entire press release from Universal for your own reading pleasure, so please click here to take a look at all the details for these exciting announcements.