Universal takes you to the Mat and beyond, and celebrates the Big Kahuna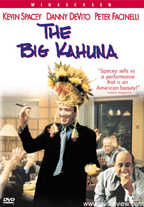 We just got more information about a number of upcoming titles from Universal Home Video this August. As you have undoubtedly noticed from yesterday's release announcement, Universal has slated two separate versions of the highly controversial Amercian Psycho, one R-Rated and an Unrated cut of the movie.
Today we have detailed information about Beyond The Mat an entertaining documentary about professional wrestling. If you ever wondered, what is real and what is fake in these showmanship driven athletics, you HAVE to see this documentary. With interviews and behind the scenes footage, you will never get another change to see the WWF so up-close and personal. Universal brings us the unrated Director's Cut of the film on August 22 that features additional footage.
On August 29 comes The Big Kahuna, a hilarious comedy starring Kevin Spacey, Danny DeVito and Peter Facinell. It is the humorous story of three industrial lubricant salesmen at a convention where anything can happen and careers can be made or ruined on a handshake. Now, with their careers on the line, they must put their trust in the greenhorn sales rep as they pursue the ultimate sale, The Big Kahuna. The DVD will feature a 16×9 transfer of the movie and a Dolby Digital 5.1 audio track, and will also contain a Trailer, Production Notes and Cast and Crew Biographies.
We have also been able to obtain the cover artwork for these announced titles, so make sure to stop by the Cover Gallery and take a first look at the packaging for these DVDs, as well as for Dragonheart: A New Beginning. We have also added these titles to our current Release Section, so make sure to stop by and check out all the details for these and all the other title announcements that came in recently.