Take an exclusive first look at the packaging for The Sound Of Music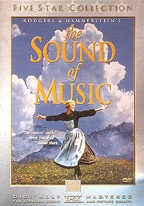 20th Century Fox Home Entertainment is fully under way to release the musical The Sound Of Music on DVD on August 29, as you may recall. The 2-disc special edition of the movie will feature a brand-new anamorphic widescreen transfer of the film with a 4.1 Dolby Digital audio track. Apart from an audio commentary by director Robert Wise, the disc will feature the documentaries "Salzburg Sight and Sound," "The Sound Of Music: From Fact To Phenomenon," an audio supplement by Ernest Lehman, Interviews, Storyboards, Production Stills, Sketches, Production Diary, 8 Sing-Alongs, Trailers, TV and Radio Spots. All in all, a very wholesome package for fans of this heartwarming film.
While we are all eagerly awaiting the release of this film, we have been able to obtain the cover artwork for this release for you, and as you can see, 20th Century Fox Home Entertainment is currently establishing a line-look for its 2-disc box sets with a silver framing of all titles, calling them "Five Star Collection." It is a very stylish look that is especially enhanced by the use of reflective aluminum foil. Please click on the image for an enlarged look at the package artwork.