More details about The Whole Nine Yards came in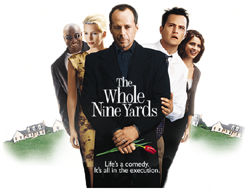 As we had reported earlier, Warner Home Video is preparing the release of The Whole Nine Yards on July 18. Today, finally more details about the comedy came in so we thought we'd give you a brief update. The hit comedy which was the No. 1 movie in America for three straight weeks. It will be available for rent on video and for sale on DVD at the suggested retail price of $24.98.
Directed by Jonathan Lynn ("My Cousin Vinny""), "The Whole Nine Yards" stars Bruce Willis, Matthew Perry, Rosanna Arquette, Michael Clarke Duncan, Natasha Henstridge, Amanda Peet, and Kevin Pollack.
"The Whole Nine Yards" DVD contains the following special features: interview gallery with the film's cast and crew, feature-length commentary by director Jonathan Lynn, both 4×3 standard and 16×9 widescreen formats, theatrical trailer, subtitles and English/French Dolby Digital 5.1 sound. The film, also available on VHS with Spanish subtitles, is rated R with a running time of 98 minutes.
The movie about life, love and plenty of ammunition tells the story of Nicholas "Oz" Oseransky, an all-around-nice dentist living in suburban Montreal. His new next-door neighbor, Jimmy "The Tulip" Tudeski, is a hit man hiding out from a dangerous Chicago crime family. Despite their differences, Oz and Jimmy have one thing in common: someone's trying to kill them both. For Jimmy, avoiding a couple of hired killers is child's play. But for Oz, it's a whole new ball game. To stay alive, they're going to have to stick together.
Written by Mitchell Kapner, "The Whole Nine Yards" was produced by David Willis and Allan Kaufman, and executive produced by Elie Samaha and Andrew Stevens.