Kid, Kid, what a time to release a Special Edition of Cat Ballou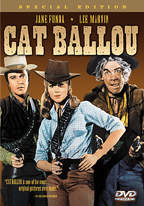 We have just received word that Columbia TriStar Home Video is currently preparing the 1965 sleeper-hit Cat Ballou for release on DVD as a Special Edition. This western comedy by director Elliot Silverstein has been a fan-favorite for years and the Special Edition Columbia TriStar's is presenting here looks very exciting, too.
The film was declared an instant classic when its sly blend of Western parody and rapid-fire action hit the screen. Lee Marvin won an Oscar for his dual role as noseless gunslinger tim Strawn and as Kid Shelleen, the boozy has-been who goes up against him. Jane Fonda stars as Catherine "Cat" Ballou, the schoolmarm-turned-outlaw who teams up with Kid.
Containing an brand-new anamorphic widescreen version of the film as well as a fullframe presentation, the DVD will come with the original mono audio track. The featurette The Legend Of Cat Ballou with director Elliot Silverstein will be on the release, as well as an audio commentary by actors Michael Callan and Dwayne Hickman. You will also find a Vintage Advertising gallery on the disc as well as Production Notes, Talent Files and a selection of trailers. "Cat Ballou" will be released on August 8 and will carry a suggested retail price of $29.98.
We have also received word that Columbia TriStar Home Video is currently preparing a re-release of Wolfgang Petersen's underwater epic Das Boot. Released three years ago as a double-sided disc, the new release will contain the exact same features and content, but will finally deliver the 3 hour movie on a dual layer disc without interruption.