For those who forgot what terror is like… Universal presents new Jaws website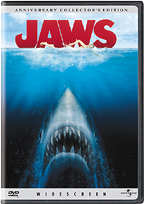 As you certainly all know by now. A Collector's Edition of Jaws is on its way to DVD from Universal Home Video, scheduled for release on July 11. To support this major release, Universal has also prepared a dedicated website for the film that just went live today at www.JAWS25.com.
Using Flash technology, www.JAWS25.com will include exclusive features on the filmmakers and cast members, behind-the-scenes footage and original production notes. Site visitors can also sink their teeth into a photo gallery of 75 photos from the film, the original theatrical trailer and special downloadable screen savers and browsers of memorable scenes.
Web site visitors will also be able to obtain additional information regarding the July 11 release of the "Jaws" Anniversary Collector's Edition DVD. It features a new digital transfer and will be available in two versions: Widescreen Dolby Digital 5.1 Surround and Widescreen DTS 5.1 Surround audio.
Both versions of the DVD will contain a "Making Of"" featurette loaded with rare behind-the-scenes footage, including interviews with director Steven Spielberg, screenwriter/author Peter Benchley, stars Richard Dreyfuss, Roy Scheider, Lorraine Gary, producers Richard D. Zanuck and David Brown, production team members and the creation of "Bruce" the shark. Other bonus features include deleted scenes, outtakes, "Shark World," an educational look at sharks, the original theatrical trailer, a photo gallery, storyboards and production drawings, a trivia game and a PC screen saver.
After the 1975 release of "Jaws," the fascinating tale of a predatory great white shark that terrorizes the peaceful beach community of Amity, movie audiences never looked at the water the same way again. The first "summer blockbuster," "Jaws" created a frenzy at the box office and won three Academy Awards®: Best Sound, Best Original Score and Best Film Editing. With the release of the "Jaws" Anniversary Collector's Edition DVD and the launch of www.JAWS25.com, the powerful film will continue to strike fear into audiences with the heart-stopping tension and stunning soundtrack which garnered tremendous commercial success and critical acclaim.