First Run Features releases Bedrooms & Hallways in August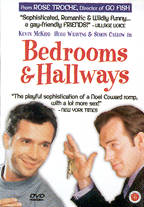 Independent DVD publisher, First Run Features just announced director Rose Trocher's (Go Fish) latest film Bedrooms & Hallways for release on August 8. Acclaimed director Trocher has once again created a funny and sophisticated romantic comedy that, by examining the fluidity of sexual identity of contemporary relationships, could easily become another milestone in gay cinema.
Leo and Darren are two gay flatmates living in London, each single and pursuing romantic happiness. While Darren strikes up a relationship with a real estate agent and sexfiend Jeremy, Leo joins a New Age men's therapy group and promptly develops a crush on fellow member Brendan – who is recently separated from longtime girlfriend Sally!
Apart from the feature film, the DVD of "Bedrooms & Hallways" will also include a bonus interview with director Rose Troche and carry a suggested retail price of $29.95.