A first look at Supergirl and some details about the release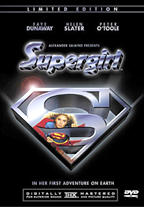 On August 8, Anchor Bay Entertainment will release Supergirl on DVD in two different versions, as many of you may recall. One of them will be a Limited Edition of the film in a 2-disc set that is limited to 50, 000 units. The set will contain a 16×9 enhanced widescreen version of the "extended international" version of the film, running 125 minutes. The THX-certified disc will also feature a remixed Dolby Digital audio track and a new commentary track with director Jeannot Szwarc and "Superman" expert Scott Bosco. A remastered version of the "Making Of Supergirl" Featurette will also be on the disc, as will an incredible collection of trailers and TV Spots from around the world. The second disc of the box set will feature a true gem, namely a never-before-seen 140 minute cut of the movie that Anchor Bay has been able to obtain. The set will also contain an extensive booklet with interviews and photos, and replica of all the contest materials and drawings that surrounded the movie.
But Anchor Bay Entertainment will also release a regular version of the DVD on the same day, for those who may not be interested in the 140 minute version of the film. That regular version is not limited and features only the first disc from the 2-disc set.
Today we are able to give you a first look at the cover of the Limited Edition of Supergirl – the cover for the regular release has not been finalized yet. Please click on the image to the left for a better look at the packaging.