We give you an early look at Warner's Clint Eastwood box set and covers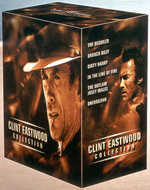 As we had announced last week already, Warner Home Video is preparing a number of Clint Eastwood films for release and re-release on DVD on August 1 as part of the Clint Eastwood Collection.
Unforgiven, The Outlaw Josey Wales, The Bridges Of Madison County will be reissued, as well as Dirty Harry, Absolute Power, The Gauntlet, Pale Rider and True Crime. Apart from those re-releases, Warner is also bringing you the DVD debuts of Bronco Billy and Kelly's Heroes on August 1.
But that's not all. Warner Home Video has licensed a number of titles from Columbia TriStar Home Video and Universal Home Video and is bringing you a Clint Eastwood 6-Pack Gift Set with DVD versions of "Dirty Harry," "The Outlaw Josey Wales Special Edition," "Unforgiven" "In the Line of Fire," "Bronco Billy" and "The Beguiled." The box set will be available for a limited time only and carry a suggested retail price of $99.92.
Today we are able to give you a first look at this box set, as well as some of the covers from the upcoming re-release of these titles. Please click here or on the image to the left for a look at the packaging artwork we have been able to gather for you.