Warner Home Video goes the Whole Nine Yards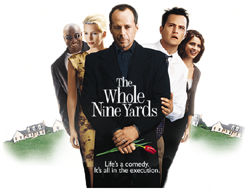 We have just received information that Warner home Video has scheduled the release of their comedy The Whole Nine Yards for July 11. Starring Bruce Willis and Matthew Perry, it is a mob story like you haven't seen it before.
Jimmy The Tulip is on the run from the mob and hides in a suburb of Montreal. Oz, a suburban dentist finds out about Jimmy's past life and quickly his greedy wife puts him on the plan to collect the bounty that's been put on Jimmy's head. What follows is a furious cat and mouse game that turns their world upside down.
Although no features have been announced for the release yet, it is interesting to note that Warner home Video is showing a remarkably fast turn-around on this title, releasing it to home video in just 144 days!