Take a look at the packaginging of Artisan Entertainment's Arabian Nights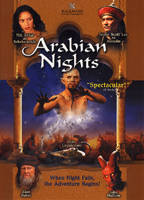 As announced a little while ago, Artisan Entertainment is preparing the DVD release of the Hallmark min-series Arabian Nights that aired on the ABC network a little while ago. It is an exciting and colorful production that has to rank among the best most recent television productions.
Starring Milli Avital, Jason Scott Lee, John Leguizamo and Alan Bates, "Arabian Nights" is a beautifully crafted movie with dazzling special effects that eloquently retells the magical story of "1001 Nights." See the tales like "Ali Baba and the Forty Thieves" come to life, or behold Aladdin change his life with the help of a Magic Lamp, only to win over the love of his life. Other exciting stories, as well as the original backstory of the book featuring Sheherazade as the master storyteller, have been woven into this made-for-television masterpiece.
The DVD is scheduled for release on July 18, and will contain the entire 175 minute version of the film, uninterrupted of course, in a fullscreen presentation with a Dolby Surround audio track, as well as a Making Of Documentary for the film. Production Notes and Cast and Crew Biographies will also be found on the disc. The disc will carry a suggested retail price of 19.98, which will make escaping into the magical realms of Sheherazade's stories even more attractive!
Today we have the cover artwork for this upcoming release for you to look at. Please click on the small image for an enlarged view at the DVD's packaging.