Sterling brings you the erotic Two Shades Of Blue and The Last Stop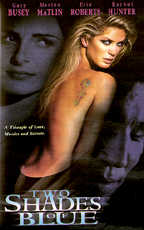 Sterling Home Entertainment has two new DVD titles in preparation for release on June 6. The first one, Two Shades Of Blue is an erotic thriller that takes you to the dark side of desire. When a beautiful woman is framed for the murder of her fiancee, she assumes a new identity to catch his killer. But she becomes embroiled with a deadly man, whose twisted games threaten to spiral out of control.
"Two Shades Of Blue" stars Gary Busey, Eric Robertsm Rachel Hunter and Marlee Matlin. The DVD will carry a suggested retail price of $19.95.
The second title, currently scheduled for release on May 16, is The Last Sop, an action movie in which a group of strangers is trapped inside a remote mountain lodge during a blizzard. But when the lone State Trooper in the group discovers a grisly murder scene and a bag filled with cash, he must find who the killer is among them. The forecast is deadly but one thing is clear; whoever lost the cash will continue to kill until they get it back. Someone is guilty. Everyone is suspect. No one is innocent and time is runing out!
Also priced at $19.95, "The Last Stop" stars Rose McGowan, Jürgen Prochnow and Adam Beach.