Scream 3 makes its DVD debut in July – we have the cover and some others as well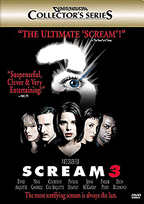 Buena Vista Home Entertainment has just made some new cover artwork available to us, mostly for more of their animated classics which are scheduled for June and July.
A very different highlight is coming on July 4 however in the form of Wes Craven's final installment of his new slasher trilogy, Scream 3. Coming as a Dimension Collector's Edition, "Scream 3" will carry a suggested retail price of $29.99 and come with a number of special features and an anamorphic transfer. At the time of this writing these details had not been announced yet, but of course we will keep you posted and up-t-date as new information becomes available.
For now, please take a look at the cover artwork we have prepared for your viewing pleasure, giving you an early outlook on Buena Vista's upcoming releases. Please click here or on the image to the left for a look at the artwork.