MGM prepares Supernova and This Is Spinal Tap for release this fall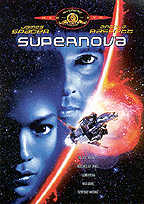 Day and date with its VHS release, MGM Home Entertainment will be releasing the explosive science fiction thriller Supernova on DVD on August 22. During its development, the film was subject to a lot of controversy and a number of directors gave up their seat during the lengthy production, including Francis Ford Coppola and Jack Sholder. Under the pseudonym Thomas Lee, director Walter Hill finally finished the film, but still, the movie was nowhere close to what it was supposed to be. Heavily cut and mangled, the film eventually bombed at the box office.
To make up for the dilemma it seems, MGM Home Entertainment is now bringing a new R-rated cut of the film to video and DVD. While it remains to be seen whether the film will be any better with the new cut in place, MGM is also releasing over 20 minutes of deleted scenes on the DVD, hopefully including the movie's climactic supernova explosion.
The DVD will feature 16×9 enhanced widescreen version of the movie in its original 2.35:1 aspect ratio, and come with a 5.1 channel Dolby Digital audio track in English and French and carry a suggested retail price of $26.98.
As we had reported earlier, MGM Home Entertainment is also working on a re-release of This Is Spinal Tap. Presented as a special edition, the film will be released in early September and come in a brand-new 16×9 enhanced widescreen transfer in the movie's original 1.85:1 widescreen aspect ratio. The disc will also contain up to 90 minutes of additional footage and audio material. The film will even find a limited theatrical re-release in September, so keep your eyes open, and will be accompanied by huge promotions and contests.