July turns into storm season when Universal Home Video unleashes The Hurricane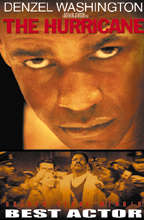 We have been able to find out more about Universal Home Video's July line-up. The studio's plans to release Steven Spielberg's "Jaws" on July 11 have been well documented here and across the Internet, but there are more titles to come your way on that day. One of them is The Hurricane, the Academy Award nominated drama about the imprisoned boxer Rubin Carter, as superbly played by Denzel Washington with a supporting cast consisting of Deborah Kara Unger, Liv Schreiber and Rod Steiger.
Rubin "Hurricane" Carter is an African-American man who rose above his troubled youth in his ambition to become a top contender for the middle-weight boxing title. His dreams are shattered however, when he is accused of a triple murder, and is convicted to three natural-life terms.
The DVD will feature the movie in an anamorphic widescreen presentation in the movie's original 1.85:1 aspect ratio, with a 5.1 Dolby Digital audio track. The disc also contains an audio commentary track by director Norman Jewison, a "Spotlight On Location" Featurette, Production Notes as well as Cast & Crew Biographies and the movie's theatrical trailer. The disc will carry a suggested retail price of $26.98.