EXCLUSIVE: We have all three covers of Men In Black for you!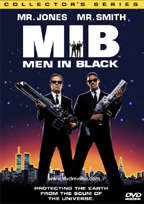 Earlier last week have been able to exclusively unveil the full contents of Columbia TriStar's upcoming release of Men In Black – as reported in this article.
Released as three separate discs on September 5, each version of "Men In Black" will contain a large number of exciting bonus materials, like a visual running length commentary by director Barry Sonnenfeld and Will Smith, Character animation studies and a detailed visual deconstruction of the tunnel scene using DVD's multi-angle capabilities. A new documentary called "Metamorphosis Of Men In Black" can be found on the disc, together with a number of alternate and deleted scenes and a section with conceptual art, storyboards and a still gallery of production photos. Storyboard-to-film comparisons and an original featurette are also part of this lavish special edition, as well as a music video by Will Smith and Mikey, and a letter from director Barry Sonnenfeld, Production Notes, Theatrical Trailers and Talent Files.
Today we are able to give you an exclusive early look at the packaging of the Men In Black DVD. The title is released in three different versions, and we have all three covers for you. Please click here or on the image to the left, to get to the page where we have prepared the cover artworks for the regular Dolby Digital version of the release, the DTS version, and the black cover of the Limited Edition that has an elegant looking silver foil lettering.