Criterion Collection serves up early Fellini and classic W. C. Fields in July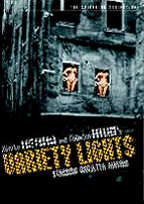 A few new title announcements from Criterion Collection just came in with details about these classic DVD releases. The first in the list is Frederico Fellini's Variety Lights, the story of a beautiful ingenue joining a tawdry music hall troupe and quickly becoming its main attraction in Fellini's directorial debut. The DVD will feature a new fullscreen transfer of the film and will contain the movie's original Italian language track with improved English subtitles. The disc will carry a suggested retail price of $29.95 and will be released on July 18.
Also scheduled for release on July 18 is W.C. Fields: 6 Short Films, a DVD that contains all of his six short films. It pays tribute to the man whose misanthropic humor placed him at the forefront of slapstick humor. The DVD contains "The Pool Sharks (1915)," "The Golf Specialist (1930)," "The Dentist (1932)," "The Fatal Glass of Beer (1933)," "The Pharmacist (1933)," and "The Barber Shop (1933)." All films will be presented in their fullscreen aspect ratio with monaural audio tracks.
And another W.C. Fields movie is making it to DVD on July 18, The Bank Dick. Written by Fields under the pseudonym Mahatma Kane Jeeves, and featuring one of his most hilarious performances, "The Bank Dick" follows an unemployed drunk who spends most of his time at the Black Pussy Cat Café. But things take a turn for the absurd when he inadvertently captures a bank robber and is rewarded with a job as a security guard. The DVD features a new fullscreen transfer of the movie and a mono audio track in English. All DVDs will carry a $29.95 price tag.