Columbia TriStar Home Video brings you a Sinbad box set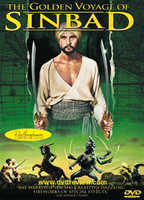 Columbia TriStar Home Video currently prepares a DVD 3-pack for the Sinbad movies from the Ray Harryhausen Collection. To be released on July 11, the 3-pack box set will contain The 7th Voyage Of Sinbad, The Golden Voyage Of Sinbad and Sinbad And The Eye Of The Tiger. While the first film in the list has been released earlier, the latter two make their DVD debut as part of this box set.
In The Golden Voyage Of Sinbad, Sinbad and his crew intercept a homunculus carrying a golden tablet. Koura, the creator of the homunculus and practitioner of evil magic, wants the tablet back and pursues Sinbad. Meanwhile Sinbad meets the Vizier who has another part of the interlocking golden map, and they mount a quest across the seas to solve the riddle of the map, accompanied by a slave girl with a mysterious tattoo of an eye on her palm. They encounter strange beasts, tempests, and the dark interference of Koura along the way.
Featuring a widescreen and fullscreen version of the movie, the disc will contain three featurettes called "Mysterious Island," "Three Worlds of Gulliver" and "Earth vs. the Flying Saucers" respectively. Vintage Advertising, Trailers and Talent Files will also be part of the disc.
In Sinbad And The Eye Of The Tiger, Sinbad must deliver a prince transformed into a monkey to the lands of the Ademaspai to restore him to his human form in time for his coronation. On the way he must contend with the evil witch Zenobia, her son and their magic, and several nasty-looking Ray Harryhausen beasties.
Presented in widescreen only, the DVD will also contain the special effects featurette "This Is Dynamation," the Ray Harryhausen Chronicles, as well as trailers and Talent Files.
The "Sinbad" box set will carry a suggested retail price of $77.95 when it finds its way to retail shelves on July 11.