Artisan Entertainment is preparing Grizzly Falls for release in June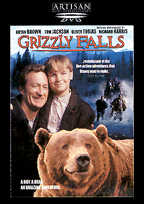 Artisan Entertainment has just unveiled details about the upcoming release of their family movie Grizzly Falls. Slated for release in June, the movie tells the story of a young boy who is captured by a Grizzly bear. He begins the most incredible journey of a lifetime, full of breathtaking excitement, harrowing danger and thrilling surprises.
The DVD will contain a widescreen presentation of the movie with a 5.0 Dolby Digital audio track. Apart from the film's trailer, you will also find Grizzly bear outtakes on the disc. The DVD carries a suggested retail priced of $19.98 when it will be released on June 20.