You've got your panties in evidence now – Columbia TriStar unveils Anatomy Of A Murder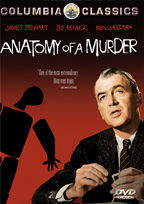 We just got information in that Columbia TriStar Home Video has scheduled the 1959 classic Anatomy Of A Murder for release on DVD in June as part of their "Columbia Classics" series.
The film starring James Stewart, George C. Scott and Lee Remick, is a riveting courtroom drama of rape and premeditated murder. A small-town lawyer squares off against a hard-headed big-city prosecutor. Emotions flare as a jealous army lieutenant pleads innocent to murdering the rapist of his seductive, beautiful wife.
The DVD will feature a digitally restored version of the film with an English and Spanish mono soundtrack with a transfer of the movie in its original fullscreen aspect ratio. The DVD also contains Production Notes, a Gallery of Vintage Advertising, Talent Files and the movie's original Theatrical Trailer.