We take a bite out of Jaws – here's the DVD packaging artwork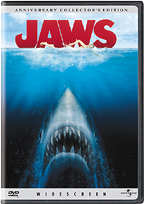 Earlier this week Universal Home Video finally announced the release of an Anniversary Collector's Edition of Steven Spielberg's first blockbuster movie, Jaws. Apart from a brand new anamorphic transfer of the film itself and a remixed 5.1 channel audio track, the disc will be released as a Dolby Digital version, or separately as a DTS version.
A large number of supplements are also part of the release, and both versions contain the same supplements, like a "Making Of" featurette filled with fascinating background information and rare behind-the-scenes and historical footage about the film's production, including interviews with director Steven Spielberg, screenwriter/author Peter Benchley, stars Richard Dreyfuss, Roy Scheider, Lorraine Gary, producers Richard D. Zanuck and David Brown, production team members and the creation of "Bruce" the shark. Other bonus features you will find on the disc include deleted scenes, outtakes, "Shark World," an educational look at sharks, the original "Jaws" theatrical trailer, a photo gallery, storyboards and production drawings, a trivia game and a PC screen saver.
We have been able to obtain the cover artwork for this highly anticipated release for you, so that you can get an idea what to look for when this DVD finally hits retail shelves on July 11. Please click on the image to the left for an enlarged version of this packaging.