We have the details for Buena Vista's June line-up of titles, and it's anamorphic…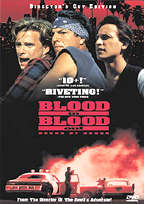 We just got details in about a number of upcoming releases from Buena Vista Home Entertainment. All titles are slated for release in June, so let's start with the ones scheduled for release on June 13.
To be released with an additional featurette, Blood In, Blood Out is a story within the rich and colorful Chicano culture of East Los Angeles, where three cousins raised as brothers fiercely live by a generations-old tradition of family – a power stronger than law, a force deeper than friendship. In one life-shattering moment, the trio is torn apart, forcing them to follow three separate paths. Through it all, family and honor keep their lives intertwined as each strives for survival and power!
The Robin Williams movie Bicentennial Man is also slated for June 13, featuring a 16×9 enhanced widescreen presentation and a 5.1 channel Dolby Digital audio track. The disc will also contain a featurette and the movie's trailer.
Play It To The Bone is the next on the list, also with a 16×9 enhanced widescreen presentation with a Dolby Surround audio track. The disc will contain only a trailer as an extra.
On June 20 then we will get to see the next batch of releases by the studio. The Hong Kong action film Twin Warriors is on the list, starring action stars Jet Li and Michelle Yeoh in a non-stop action tale of betrayal and revenge. "Twin Warriors" is actually Yuen Wo Ping's well-known movie "Tai Chi Master" and has been renamed for this release. The disc will contain a 16×9 enhanced widescreen presentation of the movie with a dubbed 5.1 channel Dolby Digital audio track in English language only.
Deuce Bigalow Male Gigolo makes its DVD debut on June 20 with a featurette, storyboards and the movie's theatrical trailer. The movie will also be 16×9 enhanced and feature a 5.1 Dolby Digital audio track.
All titles carry a suggested retail price of $32.99 with the exception of "Twin Warriors" but at least Buena Vista Home Entertainment is finally giving their titles some 16×9 enhancements.