We give you an exclusive look at the menus of Conan and Man on the Moon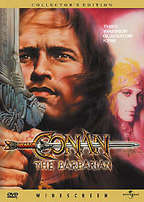 On May 30, Universal Home Video will have two eagerly anticipated titles on their release list. One of them is the day and date release of Man On The Moon, the story of Andy Kaufmann, played by Jim Carrey. The other release is a Collector's Edition of the fatnasy epic Conan The Barbarian by John Milius. Starring Arnold Schwarzenegger, this movie has defined the fantasy genre and has made Arnold the superstar that he is.
We have been able to get our hands on some of these discs" menu screens for you to look at, and we are proud to present you an exclusive first look at these menus.
Please click here for a closer look at some of the menu screens of the upcoming special edition of "Man On The Moon", or simply click here if you're more interested in taking a look at the menus of the new DVD version of "Conan The Barbarian".