The final details about Butch Cassidy and the Sundance Kid came in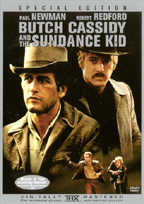 Just like we have been able to confirm the exact content of the release of "Independence Day" earlier this morning, we have been able to get the entire scoop on 20th Century Fox Home Entertainment's upcoming release of Butch Cassidy and the Sundance Kid that is scheduled for release on May 16.
Painstakingly restore and THX-certified for the first time, the special edition will include rare footage from the production as well as a series of other exciting features. The movie itself will be presented in a 16×9 enhanced widescreen presentation in the movie's original 2.35:1 aspect ratio with an English and a French language track. The disc features an audio commentary by director Roy Hill, lyricist Hal David, cinematographer Conrad Hall and dialogue coach Robert Crawford. A 45-minute documentary of the making of the movie will also be part fothe release, containing interviews wit hthe cast and crew, as well as behind-the-scenes and special film footage. The release also features additional interviews that have been conducted recently with the film's stars Paul Newman, Robert Redford and Katharine Ross, as well as with writer William Goldman and composer Burt Bacharach.
The release is topped off with the movie's original theatrical trailer and a tie-in promotion with Newman's Own popcorn and salsa poducts.
This special edition will carry a suggested retail price of $29.98 and will be available with blazing guns on May 16.