That's not all, folks! – New info on the Space Jam Special Edition is here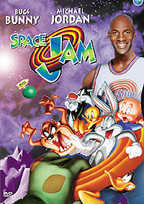 Although we had announced the title some titme earlier already, new information and additional details for the release of the Space Jam Special Edition has jus surfaced. Warner Home Video has scheduled the title for release on July 25, with a number of Looney supplements.
The story begins with Bugs Bunny, the world's favorite cartoon character, and his Looney Tunes cohorts as they find themselves in a real jam. The Nerdlucks, a grouchy gang of tiny space creatures, have been dispatched to Earth by their ruthless boss, Swackhammer (voiced by Danny DeVito) to kidnap and export the Looney Tunes to the Nerdlucks" boring planet to save Moron Mountain, Swackhammer's
failing theme park.
Bugs suggests a winner-takes-all basketball game, unaware that the aliens are secretly armed with the ability to "absorb"" talent (and height) from Earth's top basketball players. The Looney Tunes capture their own secret weapon, Michael Jordan, and transport him to Looney Tunes Land to play in the big game. It is now up to Michael Jordan and the Tune Squad to challenge the Monstars on the court and ensure their future on Earth.
The DVD will feature a commentary track by Director Joe Pytka, Bugs Bunny and Daffy Duck, as well as a Making-Of featurette called "Jammin" with Bugs Bunny and Michael Jordan". Since the movie has a lot of cool music, three music videos have also been added tp the package, namely R. Kelly's "I Believe I Can Fly", Seal's "Fly Like an Eagle" and the Monstars" ""Monster Anthem: "Hit 'em High`. If you still haven't heard enough music on the disc, you will also find the film's isolated score on a separate audio track.
Of course, Warner is also adding the movie's original theatrical trailer to the release as well as some DVD-ROM features, like Weblinks, the updated theatrical website that features games and chat areas. The special editon will be released on July 25 and carry a suggested retail price of $24.98.