Take an early look at Columbia's Little Women Collector's Edition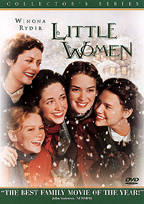 On April 18, Columbia TriStar Home Video will release a full blown special edition of Gillian Armstrong's romantic and beautiful Little Women. The disc contains a 16×9 enhanced widescreen transfer of the movie and a 5.1 channel Dolby Digital audio track in English, as well as Dolby Surround tracks in English, Spanish and Portuguese.
Stuffed with special features you will also find a running length audio commentary by director Gillian Armstrong on the disc as well as the movie's isolated score on a separate track and a "Making Of" Featurette. Two trivia games, a historical timeline, a gallery of the set-design and the film's lush costumes with a commentary by Colleen Atwood, production notes and the film's theatrical trailer are also part of this exciting release.
Since we have had the chance to take an early look at the disc, we have prepared some selected screenshots of the disc's beautifulyl animated menus for you. Please click here or on the image to the left for a look at these menu screens.