Take a look at the new James Bond menus with us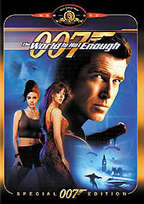 On May 15, MGM Home Entertainment will release the second volume of the James Bond Collection. As you can see from the reviews we have for some of the DVDs included in the box set, we have been able to give the collection an early check-up, and reviews of the remaining movies are following soon.
The box set contains five more special editons of James Bond movies, namely "Dr. No", "On Her Majesty's Secret Service", "Moonraker", "The Spy Who Loved Me" and "The Man With The Golden Gun". The latest Bond film, "The World Is Not Enough" is not part of the box set and is sold separately on the same date. However, to create a fully integrated collection, MGM has inserted a cardboard blind in the box set that can be removed to make room for the DVD of "The World Is Not Enough" and make it part of the box.
To whet your appetite for this extraordinary release we have prepared screenshots of the menus of some of the discs for you. As you know, the James Bond Special Editions feature lavish, fully animated menus that feature dialogue cues and other nifty elements to engange the viewer fully in the James Bond atmosphere. These discs are no different and today, we are proud to give you an early look at the menus for the first James Bond movie, Dr. No. Please click here, or on the image to the left for a look at the selection of menu screens we have prepared for you, or click here to take a look at the exclusive reviews of the next Bond movies we have prepared for you.