Take a look at the menus of Paramount's Sleepy Hollow with us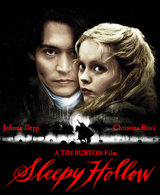 On May 23, Paramount Home Video will release Tim Burton's latest masterpiece, Sleepy Hollow on DVD as a special edition, and we have some of the disc's menus for you.
"Sleepy Hollow" is an atmospheric homage to the classic Hammer horror movies and masterfully mixes horror, fantasy and romance as it delves into the supernatural mystery of a string of murders, thought by locals to be the work of the Headless Horseman. The film features a great cast, led by Johnny Depp and Christina Ricci and even features a special cameo appearance by Christopher Lee (of the Hammer horror films) as the New York City official who sends the earnest Ichabod Crane to Sleepy Hollow to conduct an investigation.
Upon his arrival in the small village, Ichabod experiences an unusual introduction to the bewitching Katrina Van Tassel. She is under the influence of Baltus Van Tassel, the richest and most influential man of this tiny community and Lady Van Tassel, Katrina's stepmother and the matriarch of the Van Tassel estate. Other characters include the dashing Brom Van Brunt, who challenges Ichabod for Katrina's love and, in a pivotal role, the Hessian Soldier, a.k.a. the Headless Horseman.
Priced at $29.99 the DVD will feature a 16×9 enhanced widescreen transfer and 5.1 channel Dolby Digital audio track. A French Dolby Surround track will also be part of the release as well as English subtitles. As bonus materials the disc will contain a commentary track by director Tim Burton and a "Behind-the-scenes" documentary that features never before seen footage. Interviews with the cast and crew can also be found on the release together with biographies and two theatrical trailers.
To bridge the time until the disc finally becomes available, we have been able to sampe some of the disc's menu screens for you. Please click here or on the image to the left for a closer look at that selection of menu screens.