Take a look at the menus of Dreamworks' Galaxy Quest with us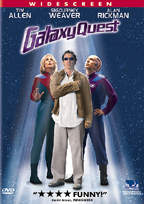 On May 2, Dreamworks Home Video will release the hilarious science fiction comedy Galaxy Quest on DVD. The disc will contain an anamorphic widescreen version of the movie as well as a 5.1 Dolby Digital audio track. As a special treat, the disc also contains an alien language track. A series of deleted scenes, a "Behind the scenes" featurette, trailers, production notes and cast and crew biographies are also part of this highly anticipated release.
Today we are able to bring you some of the menu screen from this exciting release and we have prepared them on a separate page for your viewing pleasure. Please click here or on the image to the left to take a look at these menus. As it has become tradition with Dreamworks releases, all these menus are nicely animated with great transitions from one screen to the next.