Take a look at the Jackie Chan produced Gen-X Cops from Columbia TriStar with us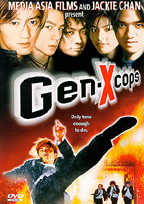 Produced by action superstar Jackie Chan, Columbia TriStar Home Video is soon releasing the furious Hong Kong action thriller Gen-X Cops on DVD in a release with a spectacular 16×9 enhanced widescreen presentation and digitally mastered audio.
As always, absolutely faithful to the original release, Columbia TriStar will be releasing the film with its original Cantonese audio track in a 5.1 Dolby Digital presentation, as well as an English dub that is also presented in glorious 5.1 Dolby Digital. A number of deleted scenes, a "Making Of" documentary, trailers and a music video round off this colorful and powerful release that will have fans of "hand made" action salivating.
We have prepared a selection of menu screenshots from the release for your viewing pleasure. Please click here or on the image to the left for a look at these menus that will give you a much better idea what to expect from this release that will hit store shelves next week.