MGM Home Entertainment just unveils two new titles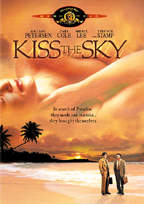 We have just received some information on two upcoming titles from MGM Home Entertainment. Scheduled for release on May 30 is Miss Julie, a film by Mike Figgis starring Saffron Burrows and Peter Mullan.
When a mid-summer's night festival loosens inhibitions — and inner passions — on a 19th-Century estate, a servant takes the advances from the Count's daughter too far with a steamy and scandalous encounter in the kitchen. And before the sun rises on the next day, it becomes clear that these two lost souls desperately need each other in order to escape the confines — and trappings — of their lives. But can a servant, with no means or education, and a noblewoman, without the luxury of her father's money, survive in the harsh realities of the outside world?
On June 6 we will then see the release of Kiss The Sky, the 1998 film by director Roger Young. The DVD will feature an unrated version of this steamy romance, starring William Peterson, Gary Cole and Sheryl Lee.
After years of upward mobility, best friends Jeff and Marty have achieved the American dream — and ended up disillusioned and restless. They concoct an overseas business trip meant to exorcise their demons, but it soon escalates into a full-fledged escape — to a spectacularly remote tropical island where they both fall in love with the same ravishing, free-spirited beauty. Throwing caution to the wind, they all agree to a three-way love affair and, making the fateful decision to shed their families back home, set out to create a sexual and spiritual utopia, observed and counseled by a wry Buddhist monk. But there's trouble in this sensual paradise… and it will ultimately test the bonds of friendship and the limits of love for each of them.