Meet Vivid Girl Kira in New York and check out her Interactive Mind Teazzer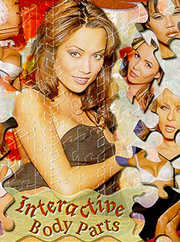 Vivid Interactive, the leader in adult DVD technology, is bringing Vivid Girl Kira Kener to Times Square to launch its "Interactive Body Parts" on Thursday, May 11th, starting at 4:00 EDT at the Virgin Megastore Times Square at 45th and Broadway.
The in-store promotion featuring the acclaimed adult film star will introduce New Yorkers to Interactive Body Parts and Interactive Mind Teazzer — an award winning series of highly interactive DVD releases by Dyanna Lauren. Both DVDs in the series allow the player to participate in a digitally decadent game of mix and match, where floating body parts must be arranged by using the DVD remote control to create the ideal girl. After completion, the player is rewarded with a special fantasy segment.
"These are a couple of the only interactive Adult DVD games in the entire world that can be played on DVD video, DVD-Rom, Playstation 2, and Microsoft X Box," said Vivid Interactive VP Jim Monroe. "Furthermore these discs are compatible with PAL, NTSC, & SECAM with no regional coding."
On Thursday, May 11th, customers and fans of Vivid Girl Kira Kener, who has appeared in swimsuit calendars, layouts in adult magazines, and has starred in some of the hottest Vivid Films ever released, will be able to take pictures, obtain autographs and try their hand at the DVD games. The winners of these games will receive a free copy of Interactive Mind Teazzer, and will have a chance to win a luxury trip to the Bahamas.
If you are in the area, don't miss your change to see beautiful Kira, and check out these interactive games. We'll have a review of "Interactive Mind Teazzer" ready for you later today.