Look into the light – the full details of Men In Black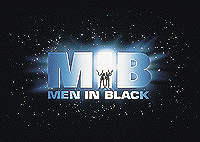 Not much information has so far been made available to fans regarding the upcoming release of the 1997 blockbuster Men In Black. But once again, the DVD Review sniffing dogs have been able to obtain exclusive information on this eagerly awaited title that will hit the streets on September 5. Actually, there will be three separate releases of the movie on that date, a Limited Edition, the Special Edition and a DTS Special Edition.
The Collector's Series edition of "Men In Black" features an anamorphic widescreen transfer that has been supervised by director Barry Sonnenfeld, presented in the movie's original 1.85:1 aspect ratio. The DVD will feature a 5.1 Dolby Digital audio track in English, as well as English Dolby Surround tracks in English and French and subtitles in English, Spanish and French.
Thick on the special features, the release will feature a visual running length commentary by director Barry Sonnenfeld and Will Smith. Like in the commentary found on "Ghostbusters," you will see the silhouettes of the commentators on the screen, superimposed over the actual movie while they talk about the film.
Using multiple angles, the disc also contains character animation studies as well as a detailed visual deconstruction of the tunnel scene. Through these multiple angles you will be able to see the creation of these scenes and characters step by step. But that's not all by far. A number of alternate and deleted scenes will also be found on the release giving you a rare look at "what could have been…" On top of that there will be a section with conceptual art, storyboards and a still gallery of production photos. Storyboard-to-film comparisons and an original featurette are also part of this lavish special edition.
"Metamorphosis Of Men In Black" is the title of a brand new documentary that can be found on the disc as well. A music video by Will Smith and Mikey, and a letter from director Barry Sonnenfeld add even more value to this package, together with Production Notes, Theatrical Trailers and Talent Files.
The DTS version that is sold separately will contain exactly the same special features but the 5.1 Dolby Digital track is replaced with a DTS encoded audio track.
Then there will be an ominous Men In Black Limited Edition. Shrouded in a dark, black packaging, the release's exact contents are still unknown, but you can be assured that all the content from the special edition release will be part of it, as well as some additional treats. We will, of course, keep you up to date as soon as new information comes in.