Let us show you the beauty of Pee-Wee's Big Adventure – its menu-screens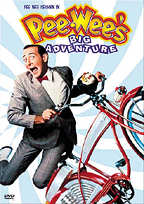 On May 2, Warner Home Video is releasing cult-director Tim Burton's 1985 directorial debut, Pee-Wee's Big Adventure. It is the story of Pee-Wee Herman, whose bicycle is stolen one day, and he will do anything and everything to get it back!
The DVD features the movie in its original widescreen presentation in a 16×9 enhanced transfer with a Dolby Digital 5.1 audio track in English, as well as a monaural French track. The disc also contains a number of special features, namely a commentary track by director Tim Burton and main actor Paul Reubens. But also the film's isolated score is on the disc in a 5.1 channel presentation with commentary by composer Danny Elfman. Information about the writers behind the project, as well as a series of deleted scenes can also be found on the disc, as well as the movie's theatrical trailer. To top it off, Warner has even added original storyboards and sketches from the movie to this DVD release.
We have prepared a selection of menu screens form this release for you. Please click here or on the image to the left for a look at these screenshots that we have prepared for you.