Finally, The Princess Bride comes to DVD – but is it what fans expected?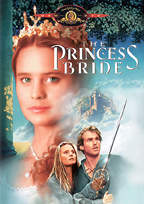 One of the most eagerly anticipated titles from the MGM Home Entertainment library is finally making its DVD debut in July. After Polygram was originally working on a release of Rob Reiner's the Princess Bride the film's rights were diverted to MGM last year, where a special edition DVD was in preparation. Recently information surfaced however, that plans to release the film as a feature-laden special edition had been scrapped and we now get to see a standard release of the film on July 18.
"The Princess Bride" is the comedy about Princess Buttercup and her true love, who outwit evil and fight for good in Rob Reiner's inventive comedy. The DVD will contain a widescreen transfer and a pan and scan transfer of the movie with an English and a Spanish audio track. Much to the fans' disappointment the disc will only contain the movie's theatrical trailer as a supplements, and an inlay booklet with small production notes.
MGM Home Entertainment does not list any more technical details about the release but given MGM's mediocre treatment of catalog titles, it is to be expected, that this release will sadly be another wash-up of a Laserdisc transfer without anamorphic encoding and supposedly with the same, rather inferior Dolby Surround audio tracks that could be found on the Laserdisc releases.