Central Park Media prepares Garzey's Wing for release on DVD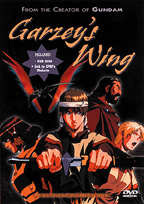 Central Park Media just announced a new DVD title that is scheduled for release on June 20. Released under their U.S. Manga Corp label, Garzey's Wing will be available at a suggested retail price of $29.99 in a DVD featuring an English language dub as well as its original Japanese language track.
Yesterday, the biggest problem Chris had was getting into a good college. Now, his spirit has been hijacked by wings of light and transported into another world! Summoned by an enslaved tribe to lead a bloody revolution, Chris must quickly adapt to his new surroundings… or die.
The Anime "Garzey's Wing" is written and directed by Yoshiyuki Tomino, the creator of Gundam and features a character design by Kenichi Onuki.