After all, the final details about the jam-packed Independence Day are here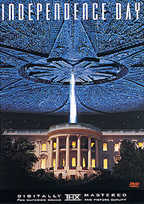 As the title slowly finishes its production, final information about 20th Century Fox Home Entertainment's 2-disc special edition of Independence Day has arrived. Many of the specs that had originally been planned for the release had to be juggled around due to various implications, but we have the complete final details about the release for you.
The special edition of "Independence Day" will feature more than 5.5 hours of special programming. The movie itself is presented in a THX-certified 16×9 widescreen transfer with a 5.1 Dolby Digital audio track in a multi-story presentation that allows you to watch either the theatrical cut of the film, or the special edition cut of the movie that features nine minutes of restored footage. The disc also contains English and French Dolby Surround audio tracks, a commentary track by Roland Emmerich and Dean Devlin, as well as a newly recorded audio commentary by special effects supervisors Volker Engel and Doug Smith.
A number of featurettes and documentaries will take up most of the release's second disc. The first one is the HBO First Look original documentary for the film that was created for HBO and is hosted by Jeff Goldblum. A mockumentary of a real life alien invasion called ID4 Invasion is also part o the release. This featurette, too, was originally created exclusively for HBO. Both features are available to own for the first time on this DVD. Then there is a 30-minute behind-the-scenes documentary called Chasing Reality that gives viewers an inside look at how the movie was created.
The disc will also contain more than 500 stills from all facets of the movie's production, including storyboards and production artwork. The film's original biplane ending that was not used in the movie's final cut is also included on the release, as well as multiple trailers and TV spots.
To round off this packed release, Fox is also adding two games to the mix. First there is an all-new online-only 3D game to the disc, called ID 4 Online. It is on the DVD-ROM content of the disc and offers a one month free subscription to the multiplayer 3D space combat online game. And then there is a disc-based Shockwave game where players must fight to save cities from alien destruction.
Add to all this the beautifully animated menu system that has been done by our friend Van Ling and I guess all of you agree with me that this 2-disc package is more than a steal at $34.98 when it hits retail shelves on June 27. Watch out, the end of the world as we know it is near!