A look at Buena Vista's upcoming line-up of DVD titles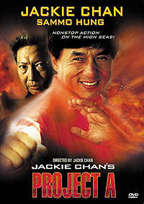 In May, Buena Vista Home Entertainment will be releasing a slew of new titles on DVD, ranging from more animated features like Three Caballeros and The Fox And The Hound all the way to action and martial arts films like Jackie Chan's Project A.
But also a wide range of other exciting titles are part of the release schedule, like Quentin Tarantino's Switchblade Sisters or the new version of the family favorite Annie.
We have been able to scoop some of the covers of these upcoming titles for you to take a look at. Please click here or on the image to the left so you can see these packaging artworks in all their glory. We even have the covers of the June releases Bicentennial Man, Deuce Bigalow, Male Gigolo and Blood In Blood Out for you there.