WinStar announces The James Bond Story in time for next Bond wave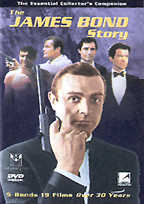 In the light of the upcoming next batch of James Bond releases from MGM Home Entertainment on May 16, WinStar Home Video is also tossing a contender in the ring that should make James Bond fans happy.
The studio will ship a DVD entitled The James Bond Story on April 25, a 52-minute documentary about the entire James Bond franchise and phenomenon that includes clips and interviews with all the actors who have played Bond, as well as interviews with the late Desmond Llewellyn, Cubby Broccoli, Ian Fleming, Jane Seymour, Terence Young and Maud Adams.
The DVD will also contain an interactive Trivia game, filmographies and production credits, as well as trailers. Surprisingly, the entire documentary will be presented in widescreen in a 16×9 enhanced transfer on this DVD.