We have the exciting details about Columbia's The Eyes Of Laura Mars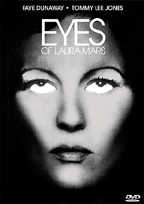 After announcing the title a little while ago as part of our new title announcements, we have no received additional details about the upcoming release of The Eyes Of Laura Mars from Columbia TriStar Home Video. Scheduled for release on June 6, this DVD will contain a few interesting extras.
"The Eyes Of Laura Mars" is a riveting tale of murder and suspense, starring Faye Dunaway as Laura Mars, New York's most controversial fashion photographer. World renowned for her sensational, erotic portraits of models in settings of glorified urban violence, Laura Mars exhibits a mystifying psychic ability. In her mind's eye, as if through the lens of her camera, she witnesses a series of bizarre murders with terrifying clarity. All of the victims are people Laura has known. Police detective John Neville, discovers a striking similarity between Laura's works and classified Police photographs of the murders and he attempts to unravel the events which have taken control of Laura's mind. The film builds to a spine-chilling climax when the eyes of Laura Mars reveal the identity of the killer.
The DVD will feature a widescreen presentation that is enhanced for 16×9 television sets with a monaural Dolby Digital audio track. As supplements it will contain a commentary track by director Irvin Kershner, the movie's original "Making Of" documentary and a photo gallery called "Eyes Of Laura." Production Notes, Talent files and trailer, as well as a large number of subtitle options will round off this release from Columbia TriStar that is based on a story by John Carpenter.