Take a look at The Insider and other Buena Vista titles with us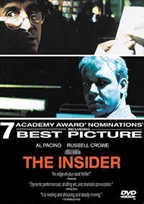 On April 11, Buena Vista Home Entertainment will release Michael Mann's critically acclaimed and highly successful thriller The Insider on DVD. Starring Al Pacino, Christopher Plummer and Russell Crowe in superb performances, "The Insider" is a suspenseful, edge-of-your-seat thriller based on a true story that stunned the nation when whistle-blower Jeffery Wigand jeopardized everything he had to reveal the shocking practices of the tobacco industry.
The DVD will feature a 16×9 enhanced widescreen transfer and a 5.1 channel Dolby Digital audio track. It will also contain a 7-minute "Making Of" documentary, an extra called "Inside A Scene", as well as the movie's theatrical trailer.
We have been able to obtain the cover artwork for this exciting release for you, together with a number of other packaging artwork for upcoming titles from Buena Vista, including the next batch of animated classics. Please click here or on the image to the left for a look at all the new cover art.