Peter Hyams: Pitting Arnold Against the Devil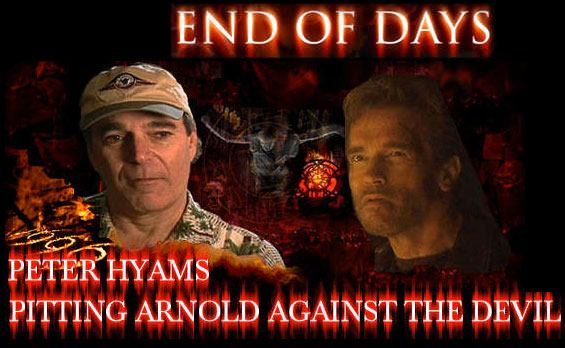 Over his 22 year career Peter Hyams has directed many big league movie stars and he has also ventured into different genres with ease. In his latest movie however, he is taking on some of the biggest heavyweights the movie business has to offer—Arnold Schwarzenegger and the Devil himself. "End Of Days" is the movie that will debut of home video and DVD on April 18 from Universal Home Video as a spectacular Collector's Edition. It is Hyams' second venture into the realms of horror, although the film itself plays more like an action movie that happens to have Satan as the ultimate bad guy than a true genre effort.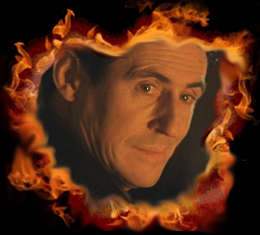 What makes an accomplished director like Peter Hyams chose a genre that most other Tinseltown try to avoid at any cost. It may have something to do with the current popularity of the genre per se, but to Hyams there is much more to it. "By definition I am not accomplished," the understated director tells me with a laugh. "I am drawn to films that have a powerful sense of feeling," he admits. "It's the big emotions that you understand better. I love to make films that have the potential to get people frightened and excited. That's what I am drawn to."
Starting with the science fiction films "Capricorn One", "Outland" and "2010: The Year We Made Contact", or his thrillers like "Presidio" and "Narrow Margin" or horror pieces like "End Of Days" clearly emphasize this notion. They all have strong dramatic qualities yet play off very different premises, all of them highly susceptible to the implicit excitement of their stories.
"Films like these give you the chance to do some wonderful camera work," Hyams explains his preference, also indicating that he is not only directing but also photographing most of his pictures. "These stories take you places, and I think I am not alone in that when I go to see a movie, I love to see truly exciting films."
"There are many prolific directors out there who made wonderful films that I deeply admire," he points out however. "I just don't want to make them. My favorite films are the ones that are exciting to me as well as to the audience."
"End Of Days" clearly reflects this notion as it is a thrilling mix of action and horror that keeps viewers on the edge throughout the movie. According to Hyams it was a deliberate attempt to combine a couple of genres, to make sure the film is exciting and frightening at the same time. The horrifying images at times, as well as the big explosions both are vivid reminders that this approach is working perfectly.
During that meeting they struck me?as determined to do ?something a little different
?Hyams about Arnold Schwarzenegger and Armyan Bernstein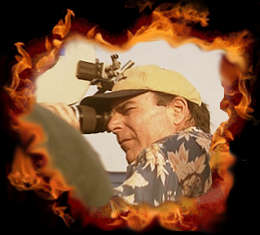 Hyams actually got involved in "End Of Days" at a rather late stage as he tells me. "It was fairly far along by that time and only months away form actually shooting it." Director James Cameron, who has been doing a lot of films with Arnold Schwarzenegger actually pointed the project out to Hyams and suggested he should take a look. Although not directly involved in the project at all, James Cameron asked Hyams to read the script for the movie. "I read it and James Cameron told me it was a project Arnold Schwarzenegger was actively pursuing," the director remembers. "They needed a director and they were pretty far along in the project. I read it and then met with producer Armyan Bernstein and Arnold Schwarzenegger. During that meeting both of them struck me as extremely bright people who were determined to do something a little different."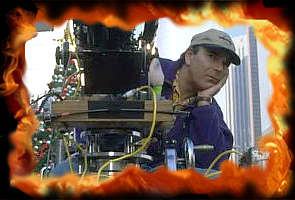 As a matter of fact, Arnold Schwarzenegger was heavily involved in the creation of "End Of Days" as he was looking for a suitable project. Although he was comfortable as the action hero, he realized that a chance was in place that would expand on his acting capabilities. He was involved in the development of the story and script for two years before the project finally went before the cameras. According to reports it was also Arnold who was determined to make sure the project would not become yet another special effects orgy for its own sake, but a good mix of action and horror with an intelligent story line. This level of involvement and understanding of the story made it easy for director Hyams to visualize the project when he came on board, and he is full of praise for his star Arnold Schwarzenegger.
"Arnold is unbelievably brave," he tells me candidly. "He wanted to take some risks as an actor. He wanted to show sides of himself no one has ever seen before. In the end it seemed to good a project to be true and I signed on."
While it is certainly hard for a director who also serves as his own director of photography to enter a project at such a late and defined stage, Hyams tells me that the atmosphere within the project and the supportiveness was unparalleled. "The worst problem you can ever have in making a film is if people are not making the same kind of movie. It was essential for me that the film they wanted to make, was the same film that I wanted to do. It would be a catastrophic experience otherwise. We all knew what we wanted to do and we just went about doing it. Obviously there were some ideas that I had, some ideas that they had and that's what it was all about." The concerted effort produced a breathtaking film that bends genres and shows us an updated version of Arnold Schwarzenegger, the actor.
The biggest mistake you can make is to underestimate Arnold?
James Cameron to Peter Hyams before the shoot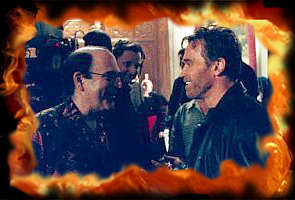 "The best description I have for him is serendipity," Hyams sums up his experience with the Austrian actor. "He surprises you—constantly. In the beginning James Cameron told me "The biggest mistake you can make is to underestimate Arnold" After a few days of working with him I knew exactly what he was talking about. Arnold is an incredibly bright man and man of good will. He is very kind and funny and he wants people to do well and accomplish things. He has a will to succeed that it as strong as anything. Arnold achieved what he achieved because of his will. His will is truly something to behold, a force of nature and very, very impressive. He's as hard-working and unlazy as anyone could be. He has surprisingly no ego at all, and just wants to do better. If you find that in anyone it's an irresistible trait."
?Although no plans have been forged, Hyams would love to work again with the actor in future projects as he tells me.
Two recent films touched upon the theological implications of horror, the religious implications of belief, "End Of Days" and "Stigmata." Interestingly actor Gabriel Byrne is taking parts in both these movies, although on very different ends of the spectrum. While he plays a priest in "Stigmata" the Irish born actor plays the Devil himself in "End Of Days"—a role that appears tailor-made for the enigmatic and charismatic actor. "When you are coming up with these kinds of films, the adversary ultimately defines the movie," Peter Hyams elaborates upon the choice of using Gabriel Byrne for the part. "It defines much tension there is in the end. There is an added problem if the antagonist isn't working in a movie. You face a lack of belief and the unwillingness of the audience to suspend their disbelief. In practice, the movie falls apart."
Gabriel is so unbelievably smart and he has this incredible ?sexuality that could be lethal
Hyams about Gabrial Byrne as the perfect Devil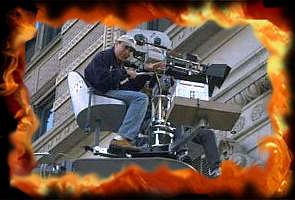 "In "End Of Days" we had the interesting situation that Arnold was willing to show a very flawed and vulnerable side of his character Jericho. It was obvious that you couldn't go up against Arnold as the protagonist with brute force. You need something more visual, with someone quiet. Gabriel is so unbelievably smart and he has this incredible sexuality that could be lethal. To be honest, I worked with quite a few people before but I've never seen anyone who has had a stronger effect on women than Gabriel. Pretty good guy to walk behind," he says with a laugh, "and it was of the utmost importance for the role. Wit, intelligence and palpable sex appeal defined the character and Gabriel was just perfect for that."
While some director have problems keeping track of everything on the set at the same time, Peter Hyams is also his own director of photography. In "End Of Days" he not only directed the cast and determined the camera angles, but he also got very involved in the lighting of the set to create the mood and look for the film that he was looking for. To him it is not a burden, but a natural extension of his work as a filmmaker. "I don't know how to separate things into categories," he tells me. "I tend to see things. I see them before I write them so it feels very natural to me. Photography is a language to me and if you speak it, no matter well, it's easier to speak in your language than using a translator."
In preparation for the shoot of his movies Peter Hyams is usually creating a lot of drawings, but once again they are vastly different than the storyboards found on many other productions. Whereas those define camera angles, exact movements and other details, Peter Hyams prefers to make sketches that are emotional drawings. "They are no storyboards," he explains his method in more detail.
Directing is like creating a corridor for accidents
?Hyams about the way he works
"They are emotional drawings, showing faces, shadows, and moods so that you see how people feel at a given point. Storyboards do have a purpose and a function, but I also think you cannot ever forget how organic the process of filmmaking is. Once you get actors out on the stage, it is just different." To accommodate that change from the academic to the practical aspects, Peter Hyams uses the sets a lot to determine his work, allowing him to decide upon shots when he sees something interesting on the stage, or if an actor has great moment. He also allows his actors to help shape their characters, make suggestions and come up with ideas that way, which he can then incorporate in the film.
"Directing is like creating a corridor for accidents," the soft-spoken director tells me thoughtfully, offering an interesting comparison. "You appreciate accidents and you encourage them, and the you try to keep them in the context. The saddest day you can ever have during a shoot is the day you go back to your hotel room or house, knowing that you shot what you thought you'd shoot." Surprises and the opportunity to rise to the occasion defines much of Hyams' work and the highly visual language he uses throughout his films supports his approach nicely.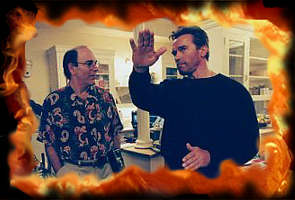 Sound is obviously another vital element in the mix, and given the very active use of music and sound in the movie, it is hardly surprising to learn that Hyams pays very close attention to his audio during the production. "Sound is a huge player in film," he remarks. "Sometimes in a film like this, the most formidable and frightening effects you can have is the sound itself. Michael D. Wilhoit did the mix. I knew him for years now. He worked with me on Capricorn One, although he was not the sound editor at the time, and has since become one of the leading mixers in the industry." Indeed, Wilhoit's long list of credits includes movies like "The Corruptor", "Outbreak", "JFK", "Jerry Maguire" and "The Prince Of Egypt" to name but a few.
Unlike many of his directing colleagues, Peter Hyams is solely focussing on his movie during the shoot, leaving thoughts of potential special edition releases on home video out of the equation altogether. "I don't concern myself with these things to be honest," he offers. Universal asked me if there were any alternate endings or deleted scenes that I would like to include on the DVD, but I told them that under no circumstances I would want to add such material to the release. They asked why, and I told them that there was a reason why they are not in the movie. I know that it is fascinating to see these endings and scenes but I only take the best prints of the best takes we have. To me the finished film is your best effort, and that's what we all in our collective mind felt to do, and it is so for a reason." To underscore his view, he offers another interesting comparison. "If you had a date with a gorgeous lady, you also want to be shaved and showered to look your best."
There is a reason why they are not in the movie?
Hyams about deleted scenes
Down those lines, Hyams is also spending much time and effort to ensure the quality of the video releases of his films look their best. "For this DVD it was the first time we have been working in high definition and it was an absolute joy," he remarks enthusiastically. "It's the closest film has ever looked like on video." Hyams spend about three weeks to supervise that transfer and to go through it scene by scene, color-correcting it shot by shot."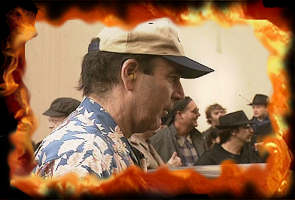 Hyams' films often have a tendency to be very dark, a result of the director's preference to play with shadows rather than light. During a video presentation this darkness can cause a lot of problems however. "The tricky thing is to make sure the darkness does not to lose the detail in the shadows. I have not seen the VHS version of "End Of Days" but I have seen the DVD master and it was wonderful .You couldn't ask for much more. As a filmmaker it is very satisfying to see that."
Hyams spent quite some time with the folks from Universal to prepare the DVD release of "End Of Days" and he is full of admiration for their work and encouraged by the results. "I was very impressed with how much care they took at Universal. They were just wonderful and really, really cared about the movie. I was impressed how they went about heir work, how much they cared, especially because that was one thing I was always afraid of. Sometimes studios yell at me because they think my transfers are too dark, but I want to push it and recreate it as good as possible and I found everyone at Universal very willing to go that route with me."
I can't think of any rationale for pan & scan nowadays
?Peter Hyams about video aspect ratios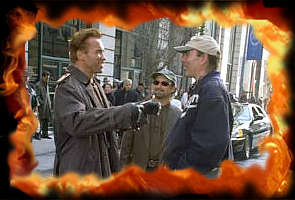 After putting so much effort into his work, the last thing the director understandably wants to see however are cropped pan and scan versions of his movies. "I can't watch them," Hyams says determined. "I don't see any justification for pan and scan. Today TV sets are bigger than they used to be, and quite honestly I can't think of any rationale for it nowadays. They're hideous, and they don't represent the image you originally envisioned. Especially if you shoot with anamorphic lenses like I do to get a 2.35:1 aspect ratio, you lose about half of the image in a pan and scan version of the film."
"I was talking to Gordon Willis about it at one point while he was shooting the "Godfather" films," he remembers fondly. "I asked him whether he is worried about how the transfer may turn out. He paused slightly and then said "You know, pan and scan is Linoleum for the eyes!" I think it is still the best description I have heard."
To complement the Collector's Edition DVD, Hyams has also contributed a commentary track to the disc—his first one. "I am kind of shy," he offers as an explanation, pointing out that it is not a general disdain, but more a fact that it just never came about. Sometimes he is not even informed when one of his movies is released and he was unaware that "Capricorn One" had been released on DVD long over two years ago. Nonetheless, it doesn't bother him too much, as he sums up his experience with a laugh. "There are so many people in the world I'd rather hear talking than myself."