Manga Video scheduled three anticipated Anime titles for release in April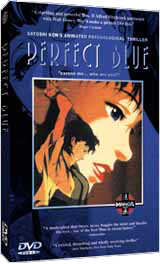 A number of new title announcements from Manga Video just came in, slated for release in April. The first title in the list is Perfect Blue the Japanese Anime that takes you in a world of make-believe where the price of fame may not be worth the cost of identity. Pop singer Mima Kirigoe looks forward to a bright new career when she quits her chart-topping trio to become an actress. When she lands a role in a sexually-charged murder mystery, Mima's life begins to fall apart. Reality and hallucination merge into a terrifying world where innocence is lost and dreams become nightmares.
"Perfect Blue" will come with 5.1 Dolby Digital audio tracks in English and Japanese, an interview with director Satoshi Kon, interviews with the voice talent, the movie's original theatrical trailer, a photo gallery, Behind-the-scenes performances, a bonus audio track and weblinks.
The next title on the list is The Castle Of Cagliostro, the Anime classic from acclaimed director Hayao Miyazaki. Master thief Lupin III, a.k.a. "The Wolf," and his right-handed gunman Jigen are hot on the trail of a counterfeiter who swindled them. But when their search leads them to the secluded European country of Cagliostro, they find far more than they bargained for. Lupin unwittingly attracts the attention of the nation's mysterious monarch when he tries to help a damsel in distress escape the Count's henchmen and in the process stumbles upon the key to finding the lost fortune of the Cagliostro clan. The DVD will feature an English dubbed audio track, as well as a Japanese track in Dolby Stereo and also include the movie's original theatrical trailer and weblinks.
Then there is Devil Man, 2 episodes of demonic animated horror from the manga of Go Nagai. In the disc's first episode, "The Birth," normal life in modern day Tokyo is unexpectedly disrupted for a young high school kid named Akira. First his parents go missing, then his pet rabbit is viciously slaughtered and finally his best friend, Ryo Asuka, reveals a terrifying secret – something that guarantees that Akira's life can never be the same again.
In the second episode, called "Demon Bird," Demons, once trapped in the glacial ice of the Earth, have been unleashed on mankind after centuries of non-intervention. Only two men have the ability to stop them, the cool-headed Ryo and the fearless Akira who, as Devilman, possesses the body and strength of a demon but with the heart and soul of a human.
The DVD will contain 5.1 Dolby Digital audio tracks, a biography and filmography of Go Nagai, a photo gallery and weblinks.
All three discs are scheduled for release on April 7 and carry a suggested retail price of $29.95.