Here's a look at the covers of Columbia TriStar's April titles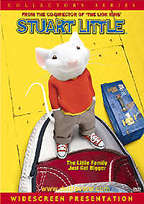 We have just been able to secure a load of cover artworks from Columbia TriStar Home Video's April line-up and prepared them for your viewing pleasure. You may notice that Stuart Little is represented with two slightly different covers. The reason for that is very simple. Columbia TriStar will release "Stuart Little" in two different versions – one of them containing a 16×9 enhanced widescreen transfer of the movie and the other one coming as a pan & scan transfer. Because the film will be released as a special edition in both incarnations, there simply isn't enough room on the disc to have both versions on the same DVD, and given the wide demographics this title is aiming at, it makes perfect sense to give people the choice which version they want to see.
Without further ado now, please click here or on the image to the left for alook at the cover artwork of Columbia TriStar's exciting April roster.