Here are the exclusive details about Universal's May line-up – with covers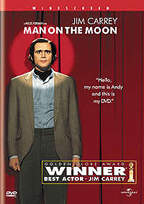 We have been able to obtain exclusive information for Universal Home Video's May line-up of DVD releases. The line-up contains a great mix of classic films as well as a hot new day and date title, all of them scheduled for release on May 30.
Jim Carrey stars in Man On The Moon when it debuts on DVD in May in an anamorphic widescreen transfer with a 5.1 Dolby Digital and a DTS audio track. Priced at $24.98, the disc contains a "Spotlight On Location" documentary as well as a separate documentary that explores the life of Andy Kaufman. But also deleted scenes, music videos for "Man on the Moon" and "The Great Beyond" by REM, production notes, cast and filmmaker bios, the movie's theatrical trailer and DVD-ROM features will be part of this exciting release.
Next on the list is Snow Falling on Cedars, also coming in a widescreen presentation that is enhanced for 16×9 television sets, with a 5.1 Dolby Digital audio track. The disc will contain an audio commentary track by director Scott Hicks, a Spotlight on Location featurette, deleted scenes, a dedicated featurette on the Manzanar internment camp, the movie's original theatrical trailer and DVD-ROM features.
Universal also extends their Alfred Hitchcock Collection in May with the release of a Collector's Edition of Marnie. Priced at $29.98, Alfred Hitchcock's 1964 film will be presented in an anamorphic transfer in the movie's original 1.85:1aspect ratio. The release will contain the documentary "The Trouble with Marnie", a large number of archival photos, the movie's original theatrical trailer, production notes, and biographies.
Highly anticipated, a Collector's Edition of John Millius" Conan The Barbarian is finally coming to DVD. Priced at $29.98, the DVD will contain a brand-new widescreen transfer of the moviethat is 16×9 enhanced, with the film's original monaural Dolby Digital audio track. As bonus materials, the disc will feature a full length audio commentary track by director John Millius and the movie's star Arnold Schwarzenegger. The making-of documentary "Conan Unchained," will also be part of the package, as well as deleted scenes, a series of archival photos, theatrical trailers, production notes and biographies.
Apart from all this exclusive information that you won't find anywhere else, we have also been able to secure the cover artworks for these releases for you. We have prepared the covers for all these releases on a separate page for your viewing pleasure, so please click here or on the image to the left for a good look at these highly anticipated titles.