Columbia TriStar slates the Three Stooges for release on May 23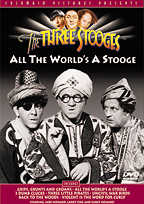 Columbia TriStar Home Video has just unveiled details about Three Stooges – All The World's A Stooge. The DVD will contain seven episodes featuring the comic trio in some hilarious set-ups.
In Grips, Grunts and Groans, the Three Stooges face a potential bout with disaster when the wrestler they're
supposed to watch over gets too drunk to fight. In All The World's A Stooge a millionaire disguises the Three Stooges as children and brings them home to convince his wife not to adopt. "'Til death do us part" takes on new meaning in 3 Dumb Clucks as the Three Stooges try to prevent their father from marrying a gold-digging young floozy whose friends plan to kill him after the wedding. In order to walk the plank to freedom, the shipwrecked Stooges must escape from the governor of Dead Man's Island and survive Black Louie's Pirate Den in Three Little Pirates. As Civil War breaks out in Uncivil War Birds, the Three Stooges decide to join the army, but the battle lines are redrawn when Moe and Larry join the Union and Curly enlists with the
Confederates. In Back To The woods, the threat of the white man is nothing compared to what happens when the Indians come face to paleface with the Three Stooges. Finally in Violent Is The Word For Curly gas station attendants Larry, Moe and Curly put a little too much super in "super service." They hide out at Mildew College for Women, where they teach the student body how to swing.
The disc will feature all the above episode in their black and white fullframe presentations with mono audio tracks in English, Spanish and Portuguese. The disc will carry a suggested retail price of $24.95 when it hits retail shelves on May 23.