Central Park Media unveils Geobreeders on DVD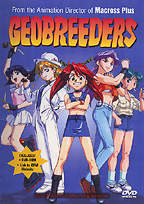 Anime specialist Central Park Media has just revealed details about the upcoming release of their Japanese animation feature Geobreeders on DVD.
Scheduled for release on May 16 at a suggested retail price of $29.99, "Geobreeder" has been directed by Yuji Moriyama, the director of 801 T.T.S. Airbats & Project A-Ko 2-4, and the animation director of Macross Plus, The Wings of Honneamise & Project A-Ko. The film takes you into a futuristic world where the brave men and women of Kagura Total Security work around the clock to rid the world of its most troublesome pests – phantoms! Their only weapons: their wits, the most advanced computer technology, and… REALLY BIG GUNS!
The DVD will contain English and Japanese language tracks as well as English subtitles. Comics, Sneak Peeks, and a series of DVD-ROM features, such as an extensive Image Gallery, Meet the Cast, and weblinks will also be part of the cyberpunk release.